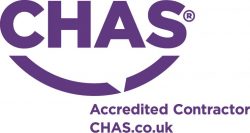 We are now approved CHAS (Contractors Health and Safety Assessment Scheme) contractors. Why have we decided to do this?
Well its all about managing safety, for larger contract especially bidding for PLC's, Hospitals and Medical Centres its a must.
How We Became CHAS Contractors
It wasn't easy there's an online IOSH course and exam which takes around a couple of weeks to complete. After that, there's the documentation required by CHAS before you're issued with the approval. This was more difficult than the IOSH course as the Accredited Assessor needed detailed documentation.
At this stage I consulted an expert, Paul Sidney the Safety Consultant of Astute Safety Consulting Ltd kindly took the time to call at our offices and reviewed the documentation.
It turns out we were applying for the wrong category as an SME we clearly are secondary or sub contractor. Within a week we had everything sorted and the final approval arrived three weeks later. Many thanks to Paul Sidney who tells me he had spent many years with the railways so he certainly knows his stuff.
What Are The Benefits of Using CHAS Contractors?
The key purpose of the CHAS accreditation is to simplify the process of finding trusted contractors with regards to Health and Safety. When using a contractor like us that has CHAS accreditation, our clients have peace of mind that all work we carry out is done so in line with the relevant Health and Safety legislation.
Efficient LED Lighting for Your Business
If you're looking for a trusted, CHAS accredited contractor to supply and install efficient LED lighting systems for your business, we can help. We work with a wide range of industries and have helped clients save thousands of pounds on their energy bills. For more information, call us today on 03333 446 084 or fill out a contact form and we'll get back to you.