We are delighted to announce that our Andromeda LED 7W Recessed downlight has taken the market by storm. This product has proven to be the most powerful LED downlight available, producing an astounding 735 lumens with just a 7W operating load. In comparison, the outdated 50W halogens that these lights are designed to replace only produce 450 lumens when new.
One of the advantages of the Northcliff Andromeda 7W Recessed Downlight is that it comes with a low glare lens and flicker-free driver. The driver is an integral part of the product, so installation is a simple process of connecting two wires into push-in connectors at the back. Additionally, this unit has an impressive IP44 rating, making it ideal for installation in damp places like bathrooms and kitchens.
We recently performed an installation using the Andromeda 7W downlights, and we were able to reduce the number of fittings necessary by almost 50% while still maintaining the same high-quality light. This resulted in a 93% reduction in energy usage, which is an incredible achievement.
With a lifespan of up to 40,000 hours and a 5-year warranty, the Andromeda range is undoubtedly the best value downlight on the market. The 4000k cool colour fitting is also kind to the eyes and is designed to fit a 75mm cutout. Furthermore, this range also includes 14W 150mm cutouts, as well as 20W 200-220 cutouts.
For multiple orders, please don't hesitate to give us a call. Thank you for considering the Andromeda range, we hope to hear from you soon.
https://www.ledlights4you.co.uk/product/7w-led-round-panel-735-lumen-4000k-ip44-cutout-75mm-copy/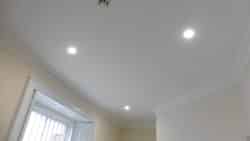 Call us Now
Multiple orders give us a call or email at 0333 344 6084 or [email protected]