Garage And Body Shop LED Lighting
LEDlights4you have years of experience working with the motor trade workshops and outside car display areas.
Body shops and car preparation require high levels of light without shadow. Often especially during the winter months, repairers actually have to take vehicles outside to inspect that colour match or finish.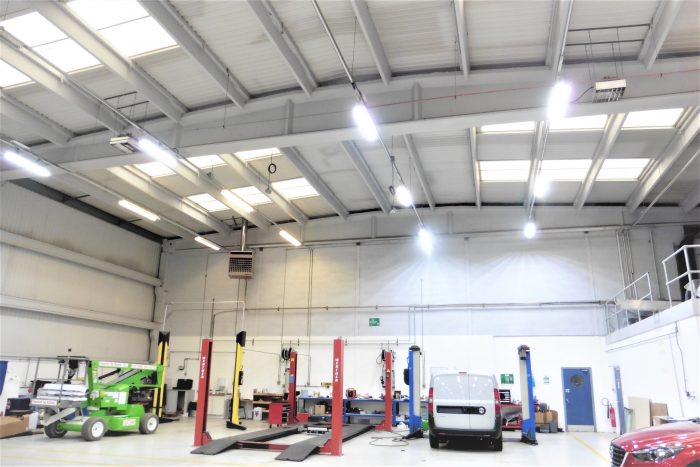 Again Fluorescent and Metal Halide lights deplete by around 30% in 6 months with deeper shadowing and tint to yellow as the bulbs and tubes age.  As specialists, we have a vast experience in body shops and vehicle preparation bays, SMH Fleet and VW Heritage are examples where we were able to improve LUX levels by 200% and reduce energy use and ultimately costs by 60%.
The Motor manufacturers are increasingly dictating lighting standards for both servicing and body repair. Our experience in this sector is second to none, having fitted out both small and large workshops see our case studies. Often we were upgrading lighting in smaller workshops however the issues are always the same and savings just as relevant.
General servicing and MOT workshops are often the poor relation of most car dealers with failing Fluorescent and Metal Halide lighting which also has high running costs.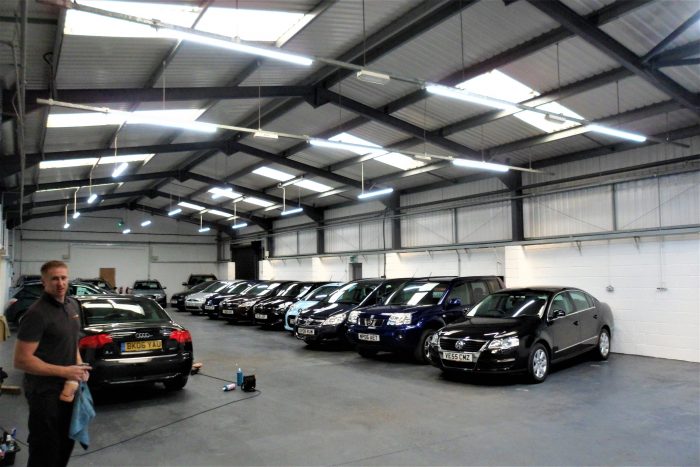 LEDlight4you has been able to supply solutions where we have increased the light levels by 100% and cut energy and running costs by 60 – 70% using our specialist super-efficient LED high Bay Tubes/Discs and T5 Twin LED Battens.
For external lighting we have used our range of IP67 super flood lights and super battens, which come with a 5 year warranty.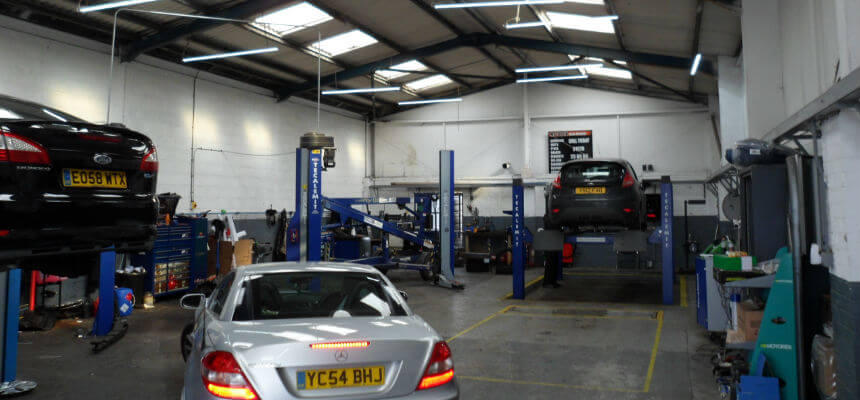 ---
---
Garage Workshop Lighting Case Studies 
---
Recommended LED Lighting Products For Garages &Vehicle Workshops

Ledlights4you are able to provide the brightest most efficient High Bay and Low Bay LED lighting with 10 year warranties. Using these products workshops have been transformed as with Winford Fords Maintenance bays and SMH Fleet Services vehicle body and preparation shops.
LED High Bay Disc
High Bay Replacement for Workshops, Warehouses, Factories
Replaces 250 - 400W Metal Halide
IP65, 22,500 Lumen, 100% Maintenance Free
Mounting Height 4 - 12m
Philips LEDs
D Mark Design IP65
---
LED High Bay Tube
High Bay Replacement for Workshops, Warehouses, Factories and Retail Stores
Replaces 250 - 400W Metal Halide
IP65, 120Degree Beam, 22,500 Lumen, 100% Maintenance Free
Mounting cable or Bracket 
Working Height 4 - 12m
10 Year Warranty
---
Experts In LED Garage Lighting 
If you are looking to save money and improve the brightness and quality of your garage lighting, we can help. For more information on how much you can save, or to book in for your free initial survey, call us today on 03333 446084 or fill out a contact form and we'll get back to you.
---
Rail Transport
We have also been involved in advising rails transport operatives on lighting for passenger rolling stock maintenance where much the same standards are required as with the motor trade. Again improved lighting in Railway depots has improved productivity even down to the picking of spare parts in depots which often operate 24/7.
Ledlights4you has provided 180w LED High Bay Tubes as a replacement for 400w Metal Halide to improve the facilities at Deptford Railway Depot.
---