LED Lighting for Offices and Commercial Premises
Smart LED Office Lighting Solutions
Are you tired of dim, outdated lighting in your office? It's time to embrace the brilliance of LED office lighting and transform your workspace into a vibrant and energy-efficient environment.
LED lighting not only enhances productivity and employee well-being but also reduces energy consumption and maintenance costs. Say goodbye to flickering fluorescent lights and hello to the future of office illumination.
Replace old, fluorescent lighting
Most offices have panelled suspended ceilings, lit by either 600x 600 4 x 18w T8, fluorescent, single 55w Philips fluorescent units or 1200 x 600 with 4 x 36w T8 fluorescent fittings. Flat ceilings are often surface-mounted versions or either 5' or 6' twin T8 or T5 fluorescent units. Generally, the light from these is adequate. However, as they deplete (often 30% in 6 months) the quality of the light becomes poor and often yellow.
Choosing the Best Office & Commercial Lighting

When it comes to creating the ideal atmosphere in your commercial space, choosing the right ceiling lights is a crucial decision. After all, your employees spend a significant portion of their lives at work, and the lighting environment plays a vital role in their overall well-being and productivity.
That's why we recommend the switch to LED for office and commercial spaces!
Take Our Free LED Lighting Survey
At LEDlights4you, we specialise in delivering energy-efficient lighting solutions for offices that can slash your energy expenses by up to a staggering 85%! 
Take advantage of our complimentary on-site survey, where our experts will assess your current lighting systems to provide you with a comprehensive energy-saving report that pinpoints areas where substantial savings can be achieved. 
Ready to make a change? 
Give us a call today at 03333 446084 to receive expert advice or to book your free lighting survey. It's time to illuminate your office while keeping your budget intact!
Energy Saving Benefits of LED Lighting
Energy saving is also another big benefit, for example 600 x 600 quad fluorescent units consume around 84W total taking into account the chokes, whereas the latest LED 600 x 600 panels are actually 20% brighter and consume just 25W, and energy saving of 71%.
For example Nortech Control Ltd based in Cwmbran South Wales, were able to save over £9,440 over 5 years, with the payback in just 32 months.
Example of what you can save
| Your Existing Light Fitting | Load in Watts | Replacement | Saving |
| --- | --- | --- | --- |
| 600×600 Quad 18w T8 Fluorescent Panel | 82 | LED Panel 40w 4000 Lumen (Typical 20% reduction in panels) | 61% |
| T8 6' 70w Twin Fluorescent | 161 | LED Epistar 40w 5000 Lumen Batten | 76% |
| Metal Halide 250w High Bay | 292 | LED 150w High Bay Disc 23,500 Lumen (Typical reduction of units by 30%) | 67% |
| Metal Halide 400w High Bay | 459 | LED 150w High Bay Tube 23,500 Lumen | 68% |
Please call for more comparisons if your lights are not listed on free phone 0333 446084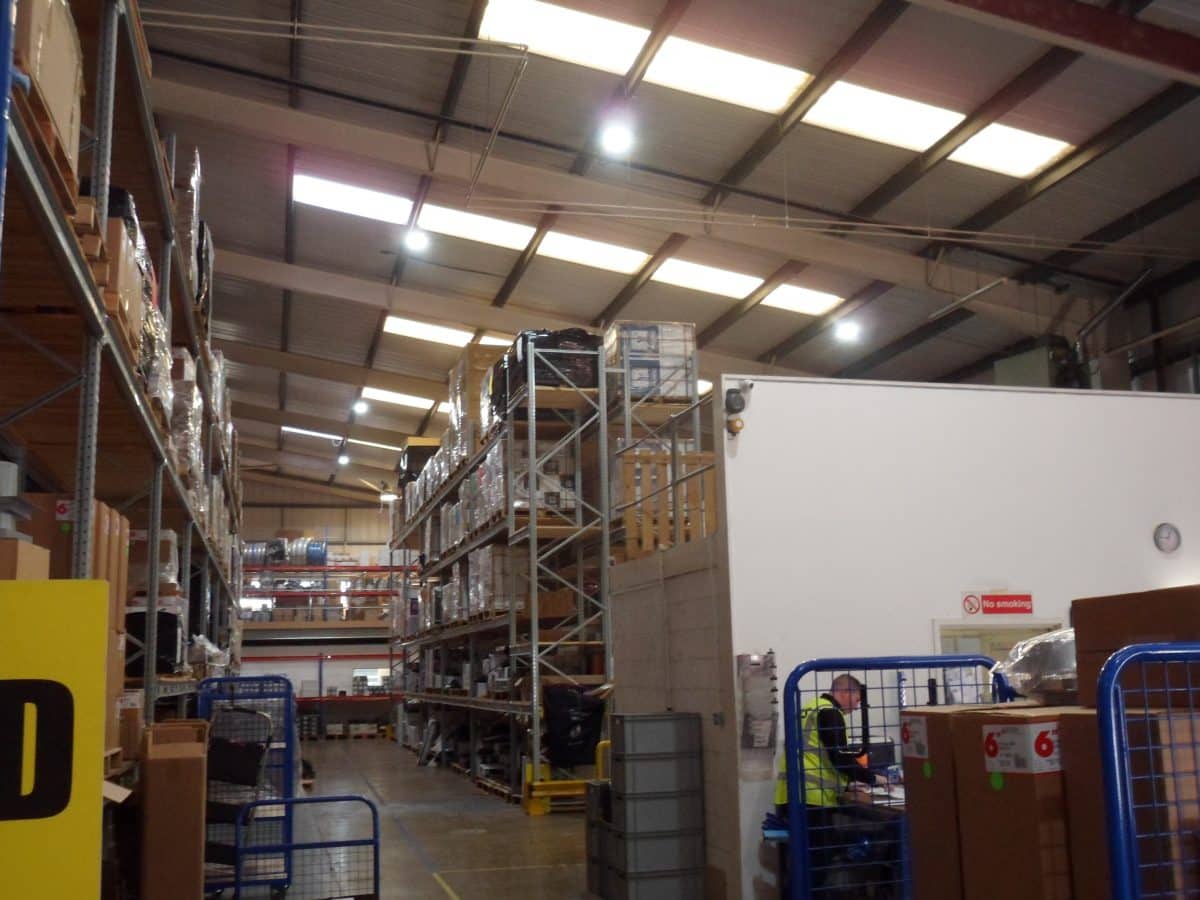 Natural Office Lighting with LED Panels and Battens
Replacing lighting with LED panels and battens will improve the quality of light in your office. 4000 – 5000 Kelvin is the colour measurement of natural daylight. Our LED solutions for offices have a Kelvin measurement of 5000. Unlike fluorescents good quality led lighting will keep its colour without yellowing or depleting. Quality LED panels are flicker free and depletion is just 10% over 10 years.
Office Lighting Installation Process
We start by carrying out a free site survey to highlight issues with your current lighting and determine what type of LED lighting would benefit your business the most within agreed budgets. Most importantly we will be able to determine what energy and monetary savings you will make.
Installation is then carried out by our team of expert LED lighting installers. All our installers are highly trained and work to IEEE Standards.
We recognise that installation can be disruptive and so we offer a flexible service that works for you. We will ensure minimum downtime for your business and can, if required, carry out our work over lunch breaks or out of hours. Additionally, we can erect portable barriers if required to close off areas from employees. Read more about our LED installation process.
ETL (Energy Technology List) compliant

Why is it important for an LED Light to be ETL (Energy Technology List) compliant?
Firstly, these lights are eligible for ECA (Enhanced Capital Allowance) and you're assured that the light will be efficient. We say "Better Lights make Bigger Savings" because the initial cost of a light is just part of the overall picture – its running cost and durability are much more important.
For our customers this means we can make energy savings of 75% on conventional lighting. With Payback in just two years.