Why is Alloy Casing better for High Bay Lighting?
In My Video I talk about heat dissipation, why is this important?
High Bay LED's and Flood lights have the highest demand as they have to have a High Lumen output to work efficiently. This means the LED chips will run higher temperature, so it's important that they have efficient heat sinking.
Ultimately the design and structure of the casing is just as important as the quality of the LED and the Driver. If you look inside a PC or under you car bonnet you'll see that the CPU is in an Aluminium casing often with additional finned heat sinking. The same goes for High Bay Lights particular grades of Alloy are used to get the best heat dissipation of heat. In the case of LEDlights4you High Bays the LED chips are actually mounted on to the finned alloy casing giving maximum heat dissipation.
High Bays are often on for long hours, we have some that are actually on 24/7!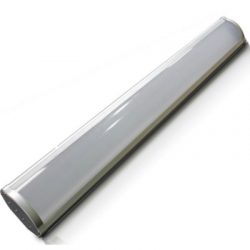 Time and Time again I am asked to replace LED lighting which has failed through poor heat dissipation. The ultimate cause is poor heat sinking leading to premature depletion (dimming) and failure of the LEDs and the Driver. Manufacture of High Bays with a steel casing is never going to give the same heat dissipation as an alloy. Ultimately the lifetime of the components will be seriously affected, lights expiring long before their lifetime expectancy.
Ledlights4you have over 7 years of experience of using and installing High Bay Lighting. We started with High Bay Tubes as our best seller to date.
These units are bomb proof with Factories and Warehouses up and down the country benefitting from their reliability. Every unit we have installed is still operating.The companies range from TFL to Boeing to name a few.
UFO or Disc LED High Bays are a later trend, they are quicker to install and with LEDlight4you High Bay Discs they are designed to create a through flow of air in their all Alloy Casing. In fact the casing has become a heat sink in itself making the se lights hyper efficient now giving up to 190 Lumens per Watt. By over engineering the LED Chips and Driver a 10 year warranty can be given with a life expectancy of 15 to 20 years.
https://www.ledlights4you.co.uk/product/150w-led-high-bay-tube/
ww.ledlights4you.co.uk/product/150w-led-high-bay-disc-with-sensor-170lm-w-10ys-warranty-80-saving/