Gregory's Garage – Blunts Saltash Cornwall
Existing Technology
Gregory's Garage is a family run business in Cornwall literally in the sticks a few miles from Saltash. Kevin told me they had had LED High Bay Lighting installed a few years ago were failing.
Those that were still working were so depleted, the output was useless, on cloudy days Kevin and his mechanic were relying on head torches to see what they were doing.
The New MOT bay Building was just a couple of years old with Philips Fluorescent quad PL55w Bay lights. These were also proving troublesome having to regularly change tubes and chokes.
Issues
Kevin contacted me through a Google search and emailed me pictures of the existing lights. Due to Covid19 restrictions, I was able to make some recommendations on line. Speaking to Kevin later he wanted me to view the site as he wanted to solve the issues one and for all.
On inspection there were many old Fluorescent fittings mounted on walls on plug in leads, the Machine room, Store and Office also needed attention.
The Office was a nightmare, with poor positioning and consequently too many fittings, the Key cupboard in the corner of the Office needed a torch to identify keys!
In the Workshop the Issue was that not only did they have failing lights; many were poorly positioned, with poor and untidy cabling, often on plugs! This meant you might have to switch a light off the use the grinder!
Whilst the savings were going to be minimal the main issue was that all the lighting was both failing and inadequate.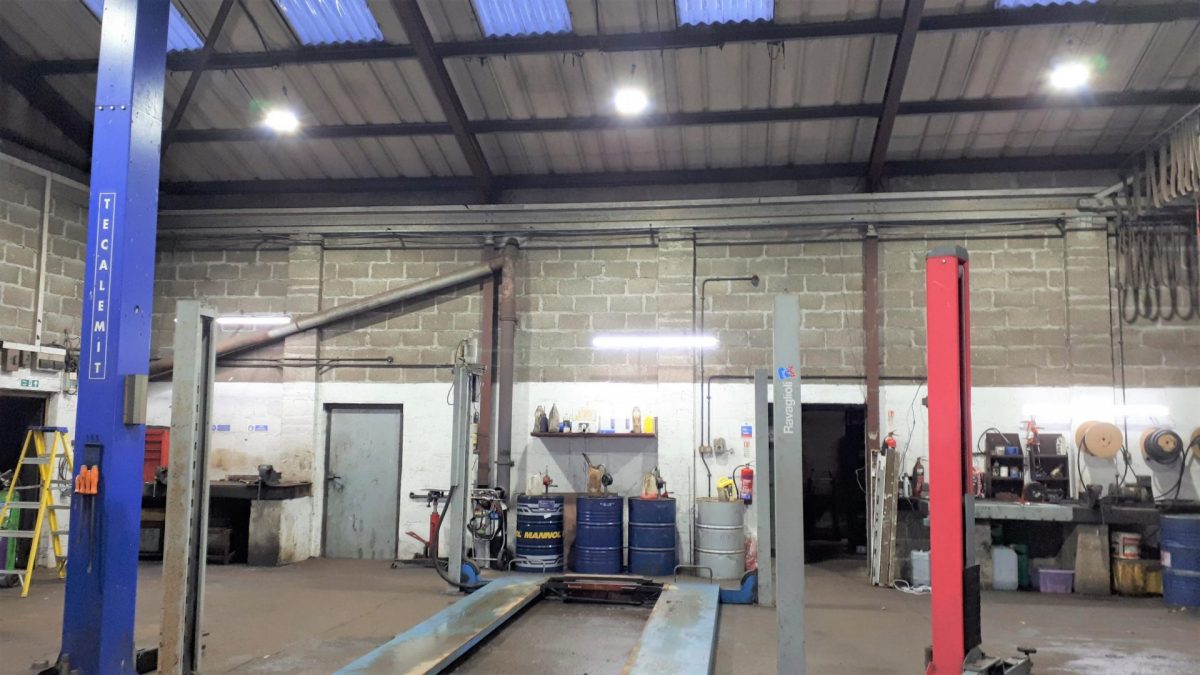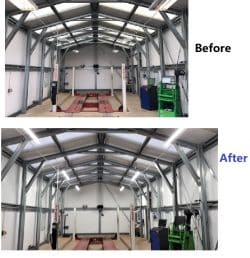 Solution
In the main workshop we replaced the failing LED High Bays with our 110W High Bay Disc Lights producing 190 Lumens per watt.
Kevin he suggested we could us some redundant switched lead light connections for the Wall lights where we were able to fit 40w Twin LED Battens. We have been using these in workshops for 7 years, their performance, reliability is brilliant!  We were able to connect all of these to redundant switch points so that all lights neatly running the cables along the conduit. Each Light is now about 1.2m up the wall lighting under the ramps, switched on individually as required freeing up the plug points.
We reduced the Office from 5 x 5'58w fluorescents to just 4 x 40w Twin LED Battens. There was instantly twice as much LUX ! Even the keys in the cupboard could be easily identified. Just a connection change in the switch panel cured the bazar switching issue with everything on one panel.
In the MOT bay we replaced the Philips units with 55w IP67 LED Tubes. These gave increased light and much better spread.
All the lights installed have a 50,000 hour life, in normal use that's around 15 – 20 years service.
EndorsementProject Cost£3,216Payback Energy Saving33%Saving 5 Years Carbon Saving
Endorsement
Project Cost
£3,216
Payback
 
Energy Saving
33%
Saving 5 Years
 
Carbon Saving