LED Lighting Systems for Workshops
Workshops are invariably the poor relation when it comes to new capital expenditure. Its common to see new LED lighting is the Offices while the workshops are dimly lit with either Metal Halide or Fluorescent lights with many failing lighting units.
New lighting in workshops make a big impact on staff moral and certainly help increase productivity and standards.  Fabrication workshops also benefit especially when welding is taking place, good bright lighting is essential as operatives are spending most of the day peering through welding goggles or shields.

Energy Saving Benefits of LED Lighting
Energy saving is also another huge benefit of switching to LED lighting, as an example 600 x 600 quad fluorescent units consume around 84W in total, whereas the latest LED 600 x 600 panels are actually 20% brighter and consume just 25W, creating an energy saving of 71%.
Example of what you can save
| Your Existing Light Fitting | Load in Watts | Replacement | Saving |
| --- | --- | --- | --- |
| 600×600 Quad 18w T8 Fluorescent Panel | 82 | LED Panel 40w 4000 Lumen (Typical 20% reduction in panels) | 61% |
| T8 6' 70w Twin Fluorescent | 161 | LED Epistar 40w 5000 Lumen Batten | 76% |
| Metal Halide 250w High Bay | 292 | LED 150w High Bay Disc 23,500 Lumen (Typical reduction of units by 30%) | 67% |
| Metal Halide 400w High Bay | 459 | LED 150w High Bay Tube 23,500 Lumen | 68% |
Please call for more comparisons if your lights are not listed on free phone 0333 446084
Using the latest in LED technology, LEDlights4you can reduce energy costs in your workshops by up to 70%. Call us today for advice or to book your free lighting survey on 03333 446084.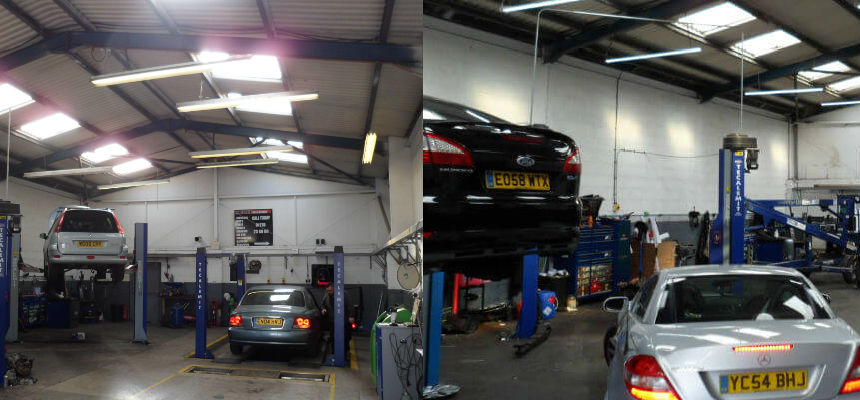 ---
Workshop LED Lighting Installation Process
Everything starts with a no obligation, free lighting survey at your workshops. We take readings from the entire premises, including LUX readings in strategic areas. This information is then fed into our interactive lighting survey and comparison platform to create a multi-page report. The report outlines the energy and financial savings that can be made with new lighting. We also highlight any Health & Safety issues that are apparent as a result of poor lighting.
Following acceptance of quotation, our fully qualified installation team will come and fit your new LED lights, providing you with all the relevant maintenance and aftercare advice to ensure you get the biggest savings out of your new lighting system. See our full lighting installation process.
---
ETL (Energy Technology List) compliant
Why is it important for an LED Light to be ETL (Energy Technology List) compliant?
Firstly, these lights are eligible for ECA (Enhanced Capital Allowance) and you're assured that the light will be efficient. We say "Better Lights make Bigger Savings" because the initial cost of a light is just part of the overall picture – its running cost and durability are much more important.
For our customers this means we can make energy savings of 75% on conventional lighting. With Payback in just two years.
---
Workshop Lighting Case Studies 
---
Recommended LED Lighting Products For Workshops

Ledlights4you are able to provide the brightest most efficient High Bay and Low Bay LED lighting with 10 year warranties. Using these products workshops have been transformed as with Winford Fords Maintenance bays and SMH Fleet Services vehicle body and preparation shops.
LED High Bay Disc
High Bay Replacement for Workshops, Warehouses, Factories
Replaces 250 – 400W Metal Halide
IP65, 22,500 Lumen, 100% Maintenance Free
Mounting Height 4 – 12m
Philips LEDs
D Mark Design IP65
---
LED High Bay Tube
High Bay Replacement for Workshops, Warehouses, Factories and Retail Stores
Replaces 250 – 400W Metal Halide
IP65, 120Degree Beam, 22,500 Lumen, 100% Maintenance Free
Mounting cable or Bracket 
Working Height 4 – 12m
10 Year Warranty
---
Experts In LED Workshop Lighting 
If you are looking to save money and improve the brightness and quality of your workshop lighting, we can help. For more information on how much you can save, or to book in for your free initial survey, call us today on 03333 446084 or fill out a contact form and we'll get back to you.
---
Replacing Failed High Bay Lights
---
Security
Our LED Flood lights are in 6,000 Kelin which give a cool white light ideal for CCTV and security monitoring.