LED Lighting Installation
At LED Lights For You, we have been installing high quality LED lighting systems in a range of different work environments across many sectors since our establishment in 2014
Our installation service is prompt, hassle-free and completed with minimal disruption to your staff and workplace – all of our engineers have the necessary expertise and qualifications to complete installation in a compliant and safe manner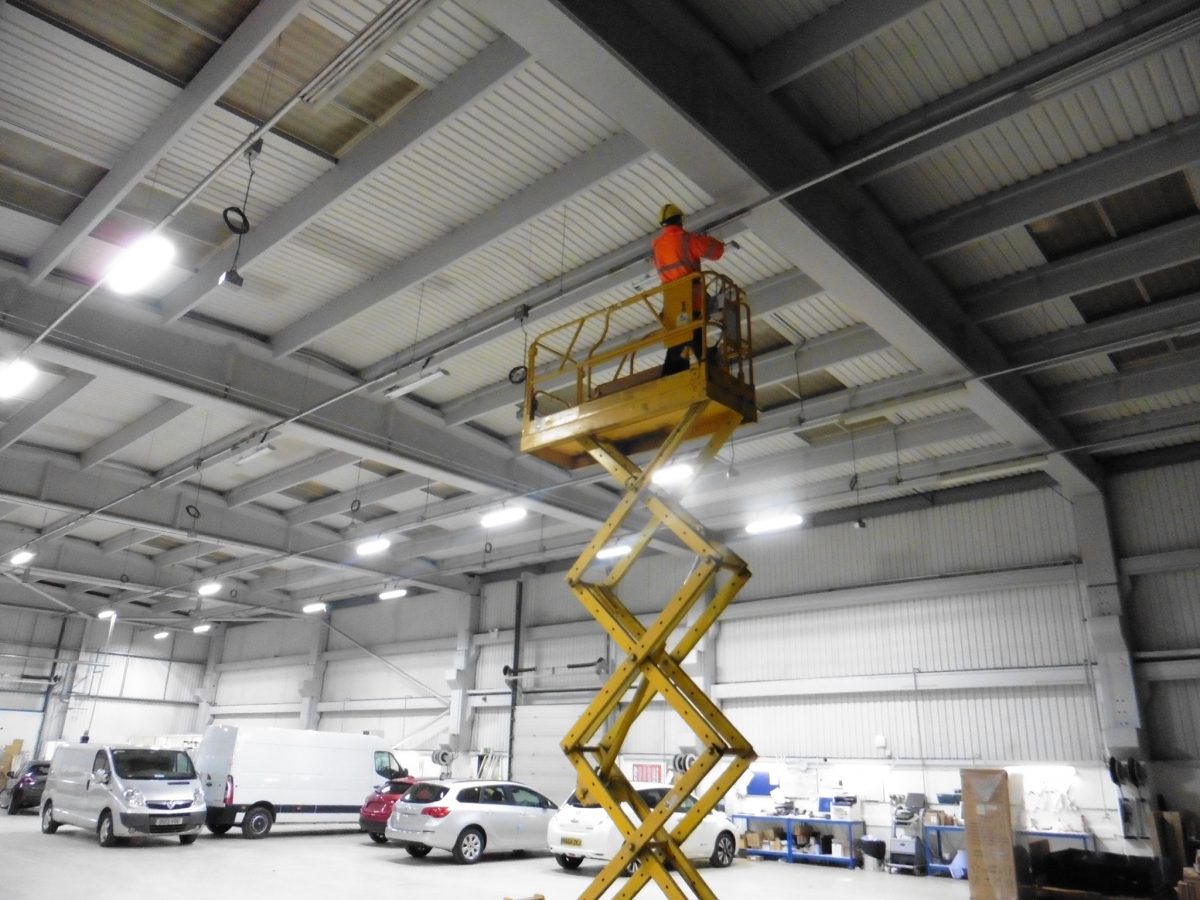 Our Led Lighting Installation Process
SITE SURVEY
We carry out a free site survey to highlight issues with your current lighting and determine what type of LED lighting would benefit your business the most within agreed budgets
Throughout this survey, we take a list of the existing lighting, note the current energy usage, maintenance costs, scalability of the system and note LUX levels in key areas in comparison with HSE recommendations. Once inputted into our interactive lighting survey software, we are able to form a multi-page report outlining the financial and energy savings that are achievable.  In larger organisations, particularly those that carry ISO19001 or ISO14000 certification, we can assist with the RAMS" Risk Assessment and Method Statement as well as a fitting plan.
Installation
Once the quotation is accepted, installation is carried out by our team of expert LED lighting installers. All of our installers are highly trained in the installation of electrical apparatus and work to IEEE Standards. We recognise that installation can be disruptive and so offer a flexible service that works for you – in some cases, we carry out our work over lunch breaks or out of hours. Additionally, we can erect portable barriers if required to close off areas from employees.
COMPLETION
Upon completion, all lights and sensors are tested by our personnel and instructions are given to members of staff. A completion certificate and any necessary electrical certificates are passed to the management including the specification of each light and the product guarantees provided.
If applicable, a copy of the completion certificate is also sent to the Carbon Trust for payment of Local enterprise initiatives as proof that the project is complete.
After care & Maintenance
Following installation, we'll provide any necessary aftercare and ongoing maintenance advice to the relevant members of staff at your business. Generally, our fittings are plug and play which means if in the future a unit has to be changed or cleaned they can simply be safely unplugged.
In addition to the guarantees of each individual product, we provide a one year guarantee on labour. In the unlikely event that something does go wrong with one of the units, we'll be on hand to solve the problem in a timely manner.
CHAS compliant health & safety
As CHAS compliant contractors we are trained to assess Health and Safety factors and produce a qualified risk assessment to ensure your installation is efficient and safe. For example, in a factory or warehouse, sections will be isolated from personnel and machinery paused while lights above are dismantled and replaced with an appropriate LED Unit.
Any changes or additions to circuitry are carried out by a qualified electrician to NICEIC standards. All personnel are given a briefing each day on the works required, liaising with staff to ensure health and safety practices are observed.
To access the current lighting, we use a Cherry Picker or Scissor Lift, all installers who operation this access equipment hold an IPAF certificate.
Why Use LED Lights 4 You?
We have a range of incentives including interest-free loans.
We carry out a free lighting survey before any installation to ensure maximum financial and energy savings are achieved.
We adhere to all relevant Health and Safety standards and recommendations from HSE & CHAS compliant.
We are NICEIC approved electricians, meaning we can carry out any further electrical work that may be required in order to carry out the installation.
We source our LED lighting direct from manufacturers, TUV certified and ETL compliant, cutting out importers and wholesalers and allowing us to offer a competitively priced service.
Specialised service to address challenges faced across different sectors.
As members of the Institute of Lighting Professionals, we can guide you on the lighting levels required in your premises and help you meet regulatory requirements.
LED Light Installation FAQs
Will my business still be operational whilst you carry out installation?
We strive to provide a service that is as non-disruptive as possible. Before we start work, we'll work with you to determine the least disruptive time to carry out work.
How much can my business save?
Savings achievable depend on a number of factors including current installation, industry, size, usage and more. In most cases, you can expect to see a saving from between 60% to 80% but we've achieved this even replacing other peoples LEDS!
What sectors do you work in?
We understand the requirements of business across a wide range of sectors and can provide a specialised service for offices, shops, warehouses, engineering plants, loading bays, car parks, manufacturing lines and more.
What are the benefits of LED lighting?
As well as the reduced energy bills, high-quality ETL compliant LED lighting requires less maintenance, reduces the carbon footprint of your business, has better durability, offers instant power-up, reduces fire risks and more.
Why are your LEDs more expensive than those available in Wholesalers?
Many LED Lighting units sold by Retailers and Wholesalers are non-compliant ETL (Energy Technology List) Substandard LEDs. This means they have a poor efficiency and durability for commercial premises requiring replacement after 3 or 4 years, generally these are a waste of money. Companies also lose out because Non-Compliant ETL LED lights do not qualify for ECA (Enhanced Capital Allowance) essential to Larger Companies and Corporates.
Make sure you have the best value by using high efficiency LED that are compliant ETL and save thousands in energy and maintenance free lighting.
Expert-LED Lighting Installers
If you're looking to save money on your energy bills and reduce your business's carbon footprint, we can help. For more information on the range of LED products we have available, or to book in for your free lighting survey, call us today on 03333 446084 or fill out a contact form and we'll get back to you.