Existing Technology
Insite Technical Ltd are international Oil & Gas Engineers employing 85 staff. Due to their growth, their present offices were too small and rather expensive at the Bridge Innovation Centre. Unit 1 Cleddau Business Park, previously a call centre, had been empty for 3 years. This would provide Insite Technical with 20,000 square feet over two floors of modern office space and buying the freehold was similar to the present rental. Ledlights4you were asked to survey the building and make recommendations on upgrading all lighting including Emergency lighting and maximise energy savings.
The existing lighting was around 20 years old, with suspended panel ceilings, they have around 260 x T8 600 x 600 quad 18W Fluorescent Tubes, These units typically have a load use 84 watts with a total load of 28kW.
Issues
Many of the panels them were failing and very yellow, it's often said that strobing lights can cause headaches. LUX levels were below standard for office lighting at around just 100 LUX.
Added to this some of the emergency lights were also showing a faults which was worrying management as the building would fail the fire safety standards. With new Office layout and partitioning is the ground floor west wing, the emergency lighting needed to be upgraded with additions to comply with the BS5266.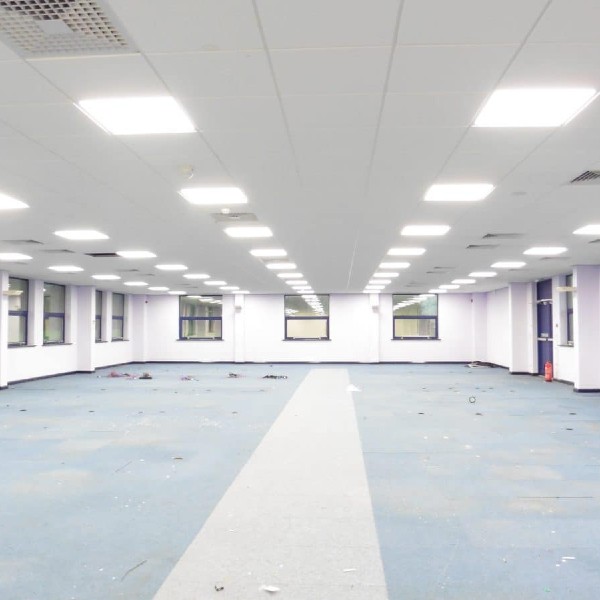 Solution
LEDlights4you installed ETL Compliant 600 x 600 25w Flicker Free Samsung LED panels in 4000 kelvin colour. This transformed the office into a fresh clean, daylight bright environment, LUX increased to around 260- 320. The Total Load was reduced from 28kW to just 6.7kW 76% energy saving.
Using a combination of 3W LED Spot Emergency 3 hour units for escape routes and 7W Baird LED Bulkhead 3 hour lights they now achieve the BS5266 standard Emergency lighting standard.
In addition small offices, corridors and toilets were fitted with Microwave occupation sensors so that lights were switched off automatically when unoccupied.
Insite Technical Ltd also took advantage of a Green Business Grant £3,385 and an interest free loan of £12,000.
| | |
| --- | --- |
| Project Cost | £22,572 |
| Energy Saving | 76% |
| Saving 5 Years | £39,368 |
| Payback | 30 months |
| Carbon Saving | 20.1 tCO2e |