Existing Technology
Existing Office lighting was the building was 600×600 quad 18w fluorescent panels, the warehouse had 250W Metal Halite High Bay Lights
Issues
Pentagon had just moved to Orpen Park Industrial Estate as part of their expansion. The buildings around 15 years old and fitted out with Fluorescent and Metal Halite lighting and in need of an upgrade. Energy saving to reduce their Carbon Footprint was foremost.
The Warehouse was only occupied by 2 to 3 personel therefore the use of sensors to automatically switch lights off was considered a big energy saving.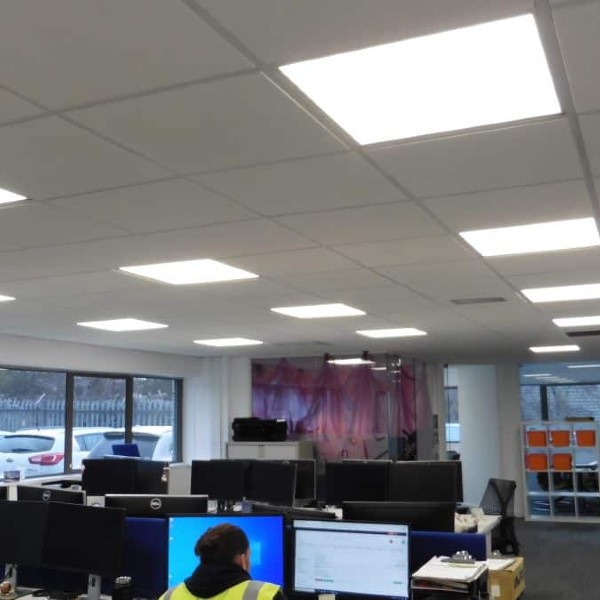 Solution
Ledlights4you replaced all Office panels reducing the number of panels by 20% making further Energy savings. Repositioning many of the panels to give better LUX levels and upgrading the emergency lighting. Overall lighting in the Offices now averages 300 LUX up from the 200 LUX with the fluorescence. Additionally the LED panels are Flicker free with an anti glare lens to cut reflection on to PC screens.
In the warehouse the 22 x 250W Metal Halite units were replaced by just 12 x 150W LED High Bay Disc lights fitted with Daylight/Occupation sensors.
Overal LUX levels in the warehouse were improved by 50% and only areas occupied were lit. Additionally as the roof has sky lights on sunny days the lights automatically switch off when LUX is over 150 from sunlight. This facility makes even bigger savings of around 50%, reducing their carbon footprint to the absolute  minimum AAA+ saving almost 8 tonnes of Carbon per year.
Overall Energy Saving is 72% with an increased LUX levels in all areas.
| | |
| --- | --- |
| Project Cost | £3,784 |
| Payback | 21.4 months |
| Energy Saving | 73% |
| Saving 5 Years | £19,980 |
| Carbon Saving | 7.9 Tonnes CO2e |