What prompted us to make a video about Smart LED Warehouse Lighting?
Mainly for customers to understand the flexability and energy reduction gained using Microwave controlled LED sensor Lighting as opposed to old fashioned Passive Infra Red (PIR).
In the video Chris Melling of Boyriven Ltd sums it up at the beginning of the Video, "Most the time the Warehouse is Dark".
"When move around then the lights come on in the areas that we are working in".
Using Microwave Sensors LEDlights4you are able set up each light for its specific purpose. That sound complicated but ir isn't one you understand that Microwave Sensors opposed to the old fashioned Passive Infra Red (PIR) it becomes clear that you set your lighting for variable hold times, dimming time, daylight sensing, sensitivity and even light power.
See the Two Minute Video Link:
Again to the uninitiated this sound very technical and complicated. However using our hand held remote your preferred settings are all preset. You can have up to 4 presets. For example where you are picking in the warehouse it's likely that you will move within 10 seconds therefore the preset is short. The light will only dim one it sees no movement in the area for less than 10 seconds. The ares can be as wide as 15 meters radius. Where as in despatch where you maybe either sitting or standing still for several minutes the settings can be set to 10 minutes after the last movement.
Daylight settings again can be varied depending on the available sunlight or skylights.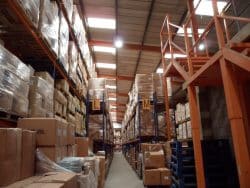 What does this mean to the customer or user? Coming back to Chris's comment " 75% of the time the lights are off". To a warehouse operator you can cut your running costs by 80-90%. Tens of thousands of £s a year with a large operation.
Microwave technology has made the possible so that fine tuning your lighting to suite your needs is now possible and as Chris says " there's no need to switch lights off any more". "It's all done automatically "
I hear the question are there any down sides, what if there's a power cut or are these Microwaves going to boil my brain?
Well let's take the Microwave issue first, each lighting sensor operates in a maximum of 30 m radius, they are using just a 10,000th of the power in your mobile phone, certainly they are not harmful. In a power offage the sensor will remember its last setting, however one of the functions of the remote is to reset them if they are in manual mode.
By have the lights off most of the time the life of the light can be extended to more than the build time of 15 years
Manual mode what's that? Well say you have an engineer installing a new machine or even repairing or health and safety reasons where it's essential to have a light on permanently. There is a manual  button on the remote, point at the light required to on and you have a permanent light. By pressing the Auto button it's back to automatic mode.
Film maker Adam Young who is an ex BBC film director did an excellent job of filming the video and editing for the final Video your viewing. When Interviewing the customer he gave them an open mic to express their own opinions which was essential for our documentary approach. 
See the Two minute Video NOW: