In just one week, our team successfully transformed an empty shell into a fully functional Distribution Centre for ACI Express. ACI Express, a Korean company that distributes Korean products for retail on Amazon, understands the importance of smooth and prompt delivery of goods on the platform. As such, it was crucial for the Distribution Centre to be efficient.
With Existing Warehousing near Heathrow, this New Swindon depot provides ACI Express with better access to the M4, improving their reach to the South West and North of England. Ledlights4you, our dedicated team, worked tirelessly to convert this warehouse into a fully operational Distribution Depot in just 5 days.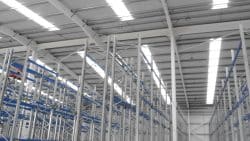 To ensure optimal functionality, we installed a new Distribution Board and utilised armoured and fireproof cabling for the lighting, power sockets, alarm systems, offices, and forklift charger. The warehouse lighting is now completely automated, thanks to our programmed Microwave Sensor High Bay and Low Bay LED Lighting. This intelligent system not only provides ample illumination but also significantly reduces energy bills.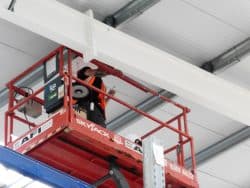 Understanding the importance of security and safety, we provided essential power points for cameras, fire, and security systems, as well as a dedicated Three Phase Forklift Charger. Additionally, our team ensured the compliance of emergency lighting guidelines outlined in BS5266, adhering to the emergency lighting standards in BS EN 1838. Circuitry for emergency lighting throughout the warehouse was meticulously installed.
At Ledlights4you, we take pride in our professionalism and expertise. Our dedication to delivering exceptional results within tight timeframes is evident in the successful completion of this project. ACI Express can now rely on their fully operational Distribution Depot to meet Amazon's stringent delivery requirements seamlessly.
See how we can Transform your Distribution Operation call today 03333 446084