Warehouse Racking – Increasing Storage?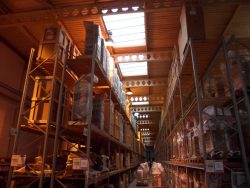 With the pressures of BREXIT drawing closer Warehousing has become an important component of commerce to ensure that supplies are not interrupted by the changes that undoubtedly are immanent.
Warehouse space is becoming a vital commodity and therefore the management of the space is a vital area of constant improvement to increase capacity.
Often this means completely re-planning the space with both Higher Shelving and Narrower Isles.
Often the Lighting is completely overlooked, often lights are directly above shelving. This results in the lighting spread being compromised and if in the case of old Metal Halide lighting there could be a potential Fire Risk if packaging is stacked too close.
Re-designing using Ultra Efficient LED High Bay lights is the most cost effective giving a Return on Investment of a little as 12 to 24 months. The funding can often be taken directly from the energy savings. One solution we can offer at LEDlights4you is to completely fund the project from the energy saving without ant capital outlay.