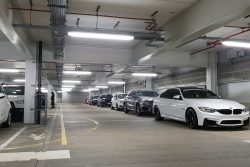 "Integral Microwave Sensors give 100% reliability through digital control"
With our latest LED Lighting systems microwave sensors are integral part of the electronics.
Integral Microwave Sensors have two distinct advantages over using a separate Sensors or Passive Infar Red PIR's.  PIR is the same technology as used on domestic TV's they operate in line of site. If you have outside PIR floods for example they don't always lite because you're not in the beam. With Microwaves they are digital and work in a similar way to Bluetooth or WIFI. Once you're in the zone that work.
With Microwaves, they are effectively low power radar or WIFI ( don't worry they are not harmful as they are working on a 10,000th of the power of your mobile phone). Therefore they will pickup movement as soon as you enter the zone (up to 15 meters radius). Their radiation will also penetrate partition walls or doors.
The sensitivity of detection can also be varied, for example in corridors the detection radius can be reduced where you have adjacent corridors or doors stop over detecting. There are Multiple settings available for both Daylight and Occupation detection with varying options for hold times and dimming periods before turning the light out.
The Digital integral Microwave control is far superior to a separate unit as with PIR's as no switching or contacts are required. Having an integral Microwave Sensor means the light is controlled digitally is through the Dimmer Driver using 0-10v technology.  Digital control uses solid state electronics, there are no relays or contactors which are often common source of failures with PIR's.
Adjusting the unit can be by micro switch as with corridor lighting or as with LEDlights4you High Bays, this is done by remote from the ground.  It couldn't be simpler, select the preset or customize, point at the light, press send its done!
In picking Iles the duration can be shorter with the sensor making the light to dim for a minute as a warning before switching off.
Microwave sensors ensure you are using your energy wisely helping to reduce your energy bills and carbon footprint to the minimum.
Ideal for Communal Areas, Stations, Carparks and Warehouses cutting Energy and Carbon Footprints by up to 90%!
Click the Link Below how the LEDlights4you Microwave Controlled High Bays work