Yes 440 LED Lights Fitted in 5 Days!!!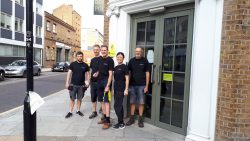 From Student accommodation Blocks, Hotels and Large Warehouses are a challenge when it comes refitting new lighting. Replacing 440 corridor lights within Budget and on time in 5 days, means you have to have a well trained team. Preparation is the key starting with lights ready to connect and a dedicated team with qualified electrician's ensuring compliant and reliable connections.
First we have to make the Business case for the energy saving and the life of the product. Many companies don't bother to do this just fitting one for one lights based on a capital spending budget.
This can be disastrous as often the energy saving are marginal and therefore the Carbon Footprint is not reduced. The DEK's warehouse was a good example of this, they had replaced their 250W Metal Halide fittings with 200W LED Cob lights. Not only was the energy saving small (less than 10%) The units began to fail in just 3 years! The result was an increased Carbon Footprint and an addition Capital expenditure when we replaced them after just 4 years!
Finding a suitable replacement is not a matter of watts per pound, we look at the Lumen Efficiency so that we can reduce the number of fittings and improve the average LUX or light levels.
The result is positive energy savings in some cases as much as 90%. Our minimum requirement is 50,000 hour build life, that's 10 – 15 years life with warranties of 5 – 10 years.
Watch the short Video on "What we Do"