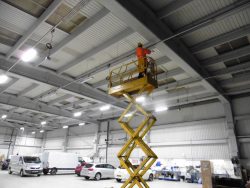 Replacing Warehouse Lighting or Flood Lighting with LED lighting always requires Powered Access Equipment, at LEDlights4you all our operatives are required to have IPAF certification and therefore training is essential.
I recently had to renew my IPAF certificate for the use of Powered Access Equipment namely 1a and 1b.
These are commonly known as Scissor Lifts and Boom Lift often nicknamed as a Cherry Picker.
The course I attended was in Bishopsworth Bristol run by Davis Access. They specialise in training for IPAF Powered Access, training over 1000 people a year from their dedicated indoor training area and class rooms. Tea, Coffee and Lunch, a sandwich were all provided.
There were two trainers, nice well experienced friendly guys, Neil and Scott who made us feel at home and relaxed.
The course now takes a whole day, remembering my first IPAF course with AFI uplift took about half a day. I think the course got extended somewhat as they had an unscheduled inspection from an IPAF Inspector.
The process now has half a day of classroom based instruction with a theory examination at the end. It's a bit like a driving test where you have to pass a theory before taking the practical.
Whilst I got 28 out of 30, I recommend having a read on line as the questions are not difficult, though they do require you to have some general knowledge of health and safety legislation.
The focus is mainly on health and safety legislation as well as practical information on the various aspects of the machines themselves.
As with my first IPAF, the practical covers inspection of the various machines both of which I have used regularly. For indoor use these are battery operated units though the Nifty 12 has dual battery Diesel option.
Harness's now require with a certificate and a test certificate if over 5 years old. These are only used on Boom or Cherry pickers, Scissor lifts do not require a harness as they can prove to be a hazard for the safe operation.
Thankfully I passed and now have another 5 year IPAF certificate, I recommend you keep your log book with the Harness so you can make some entries, I filed the last one, so I hadn't kept my entries up to date.
Paul Young MD Ledlights4you